Trucking Accidents Attorneys in Augusta, Georgia
Don't Face the Devastating Aftermath of a Trucking Accident Alone
See How We Can Help in Augusta, GA
Often referred to as motor carrier claims, our firm specializes in the civil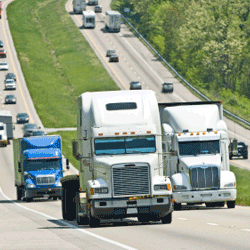 prosecution of these claims. For almost 30 years, we have settled and litigated hundreds of these crashes in many state and federal courts. We stay on top of recent developments, as well as legal and factual strategies to help our clients.
We are constantly in touch with other top attorneys in Georgia and throughout the United States and regularly attend study groups and seminars concentrating on Trucking Litigation. Call us for prompt, courteous service. Don't delay after the crash because we have ways of gathering critical evidence early on that might evaporate by delay.
If you need legal guidance after suffering injuries in a trucking accident in Evans, Augusta, Thomson, Waynesboro, or Grovetown, Georgia, call us today to see what we can do for you.
Dedicated to Fighting for You & Your Rights
Cases against large trucking companies require a level of commitment and expertise, unlike ordinary negligence cases. We at Durham Bray Law Firm stay abreast of Department of Transportation (D.O.T.) rules and regulations, the Federal Motor Carriers Act (FMCA), as well as many other state and federal laws, by attending seminars and constantly researching carrier claims. We strive to get our clients the best settlements or awards possible. We do not treat these cases as if they were just "big wreck cases," but approach them with a level of expertise through our experience, which only comes about by "having been there and done that."
Act now to put yourself in the best position possible to seek success. Call us today to speak with our team in Evans, Georgia. We are proud to serve the needs of individuals in the surrounding areas of Augusta, Thomson, Waynesboro, and Grovetown.